Unisex Heated Coat - Warm - Windproof - USB Insulation - With padded hood
Unisex Heated Coat - Warm - Windproof - USB Insulation - With padded hood
IF LIKE MANY CHILLY PEOPLE, YOU DON'T DARE TO PUT YOUR NOSE OUTSIDE WHEN IT'S COLD, OUR HEATED MIXED HOODED DOWN JACKET WILL CHANGE YOUR LIFE!

From now on, you'll love going for a walk (even in a polar environment) thanks to this quilted down jacket equipped with the latest features in terms of heated clothing.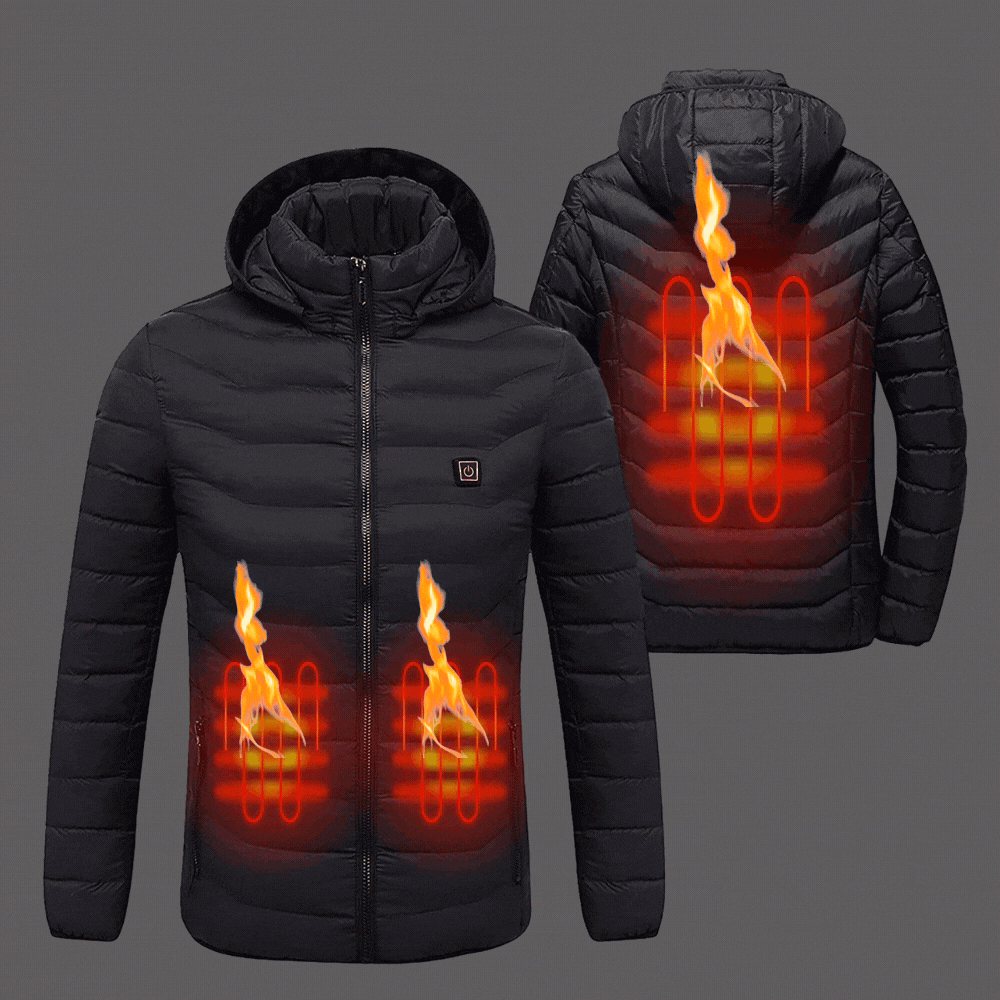 A WINDPROOF, WATERPROOF AND ABOVE ALL (AND THIS IS THE MOST IMPORTANT POINT) HEATING GARMENT!

The queen of down jackets, the Frosty is equipped with a zipper, long sleeves and a high collar. Its synthetic filling is much more efficient than the traditional down, duck or goose feathers of our ancestors, and above all it allows a tight fit for an even more modern look.

No more need for huge and oversized padding to face sub-zero temperatures and other bad weather, because the waterproof lining effectively retains the heat produced by its technology.

SIZING GUIDE
Chest:

 

Measure around the largest part of chest (under the arms)  
Waist:

 

Measure around the natural waist
Sleeves:

 

Measure from the point of your should to your wrist
Note: 
Jackets are snug fit - if you prefer a looser fitting jacket order a size up
MEASURING GUIDE
THE JACKET THAT ACTUALLY WARMS YOU UP
HOW TO USE
Our jackets are easy to use - simply click the button to put on one of the three settings.
The Jacket comes with a built-in USB Cable which can be powered by any Power Bank - we do offer the jacket with or without a battery power bank. See variant options at the top of the page to choose.
There is a built in pocket for the battery power bank which is needed to power the heating system. To use simply plug in the built-in USB cord to any power bank!
Amazing Jacket!
My husband sets off to work, on foot, very early on a morning and it's cold..! Since I bought this for him he said it's been one of his many big blessings. He's now warm and toasty on his morning walk to work and wanting another one for when he has to work outside as he doesn't want to get this one dirty. Would definitely recommend.
Christian B. - 
Verified Buyer
Very Warm
Good quality jacket. Fits well and matches the size chart. Very warm even without the heating on. Lower heat settings don't give much heat but high setting is ample in cold weather.
Tommy S. - 
Verified Buyer
IT ACTUALLY WORKS!!!!
Very pleased with this heated jacket. Well made, smart and good temperature control for both back and front. Packaging is great and it arrived in less then 8 days!
Geoffroy J. - 
Verified Buyer
Temperature 3 speed】: Energy saving equipment: 25 ° C (red light), comfortable equipment: 35 ° C (white light), warm equipment: 45 ° C (blue light). You can choose the temperature according to your needs and environment.
【Safe and energy saving】: No danger to human body when using 5V low voltage; Using carbon fiber silk material, infrared heating, no harmful radiation, soft material, stable performance, environmental protection, energy saving, safe and reliable.
【Lavable】: supports water washing and the power interface is isolated and waterproof.
【Remarks】: it should be used with an external battery not included. It uses a USB interface to keep you warm when you go out.