Pet Paw Cleaner Soft Silicone
Pet Paw Cleaner Soft Silicone
Introducing the Paw Plunger Pet Paw Cleaner - the ultimate solution for keeping your beloved furry friend's paws clean and tidy. Designed with both functionality and comfort in mind, this innovative foot cleaning cup is a must-have addition to your pet care routine.

Key Features:
Effective Paw Cleaning: No more muddy paw prints around your home! The Paw Plunger is designed to gently and effectively remove dirt, mud, and debris from your pet's paws, keeping them clean and your floors spotless.
Soft Silicone Cup: Crafted from high-quality, soft silicone, the Paw Plunger ensures a gentle and comfortable paw-cleaning experience for your pets. The flexible bristles inside the cup effectively dislodge dirt without causing any discomfort.
Portable and Practical: Whether you're at home or on-the-go, the Paw Plunger is a convenient solution to maintain paw hygiene. Its lightweight and portable design make it easy to carry, making outdoor adventures worry-free.
Available in 3 Sizes: We understand that pets come in all shapes and sizes. That's why the Paw Plunger is available in three sizes – small, medium, and large – ensuring a perfect fit for your cat or dog.
Usage Instructions:
Fill the Paw Plunger with a small amount of water, making sure it's at a comfortable temperature for your pet.

Gently insert your pet's paw into the cup and move it in a circular motion. The soft bristles will help remove dirt and grime.

Carefully remove your pet's paw from the cup and dry it with a clean towel.
Empty and rinse the Paw Plunger after each use to keep it clean and ready for the next paw-cleaning session.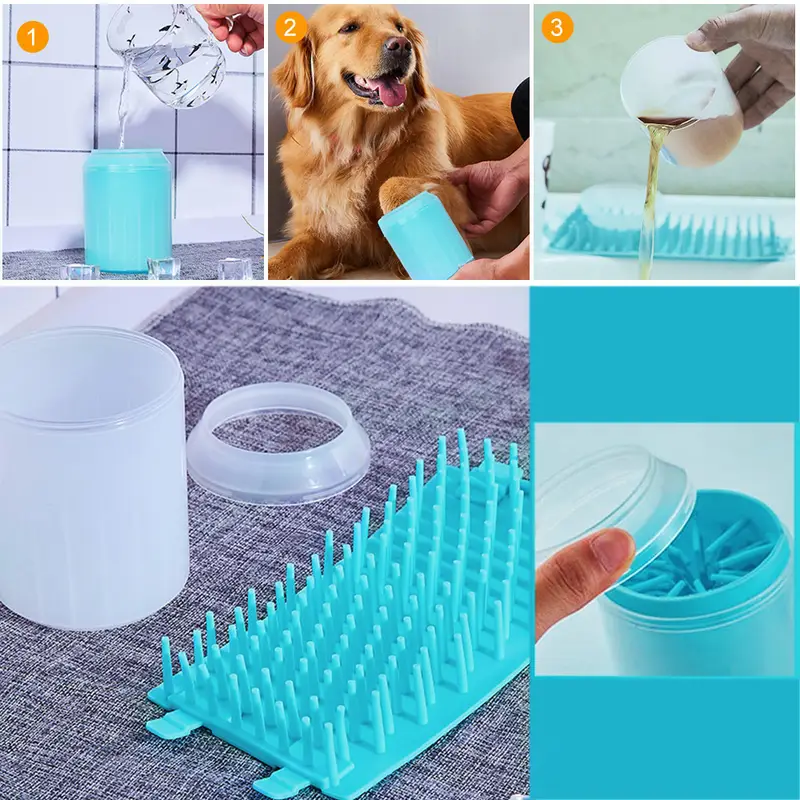 Invest in the cleanliness and comfort of your pet with the Paw Plunger Pet Paw Cleaner. Make muddy paws a thing of the past and create a hygienic environment for your furry companion. Order now and give your pet the care they deserve.
Package content:
1x Dog  Foot Washer Brush Cup